Update: SpaceX now targeting T-0 for 1 a.m. EDT (0500 UTC).
Update: SpaceX has pushed back the launch time for the Falcon 9 with Galaxy 37 to 12:45 a.m. EDT (0445 UTC).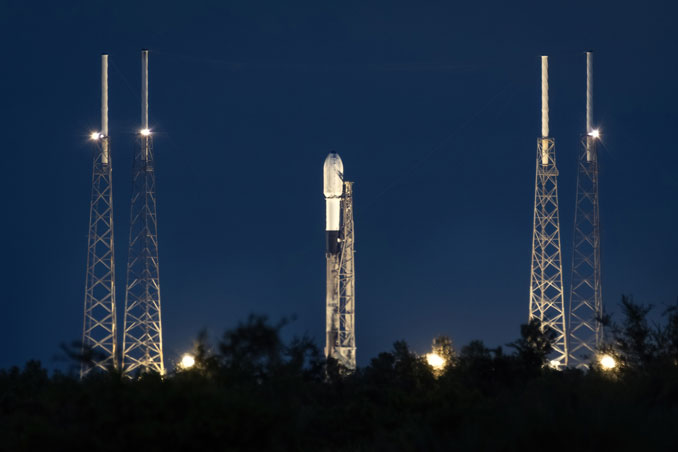 A SpaceX Falcon 9 is set to launch the Galaxy 37 communications satellite for Intelsat during the midnight hour Thursday. Liftoff from pad 40 at Cape Canaveral Space Force Station is set for 12:15 a.m. EDT (0415 UTC).
It will be the 52nd orbital launch for SpaceX this year and the sixth flight for Falcon 9 booster 1077, which first flew in October 2022 carrying a Crew Dragon to the International Space Station. The booster will land on the drone ship 'Just Read the Instructions' about eight and a half minutes after launch.
Inside the rocket's payload fairing is the five-metric-tonne Intelsat Galaxy 37 communications satellite which is equipped with four deployable antenna reflectors for both C-band and Ku-band transmissions. It will serve television and telecommunication networks and the U.S. Government in North America. The Ku-band payload which offers mobile communication services is jointly owned by Intelsat and JSAT International.The spacecraft was built by Maxar. It is the last in a series of satellites to refresh Intelsat's Galaxy fleet of satellites which operate over North America.
The Falcon 9 upper stage will place the Galaxy 37 spacecraft into a so-called supersynchronous transfer orbit with a high point above its final planned geostationary orbit. This kind of orbit conserves the satellite's onboard fuel which will be used to circularise and lower the orbit. The second stage will exhaust its remaining propellant supplies to reach the best possible orbit before releasing the satellite about 32 minutes after launch.
It will take about three weeks for the satellite to manuever itself into geostationary orbit about 35,500 kilometres above the equator. Testing will take place over Hawaii at about 148 degrees west. Once that checkout is completed it will drift to 127 degrees west, which puts it roughly west of Seattle. The satellite is expected to enter service in early October. It is expected to remain in operation for at least 18 years.